This article was originally published in the January Issue of Eclectic Magazine
Nostalgia:
When I was a geeky school kid I used to read Homeric epics, again and again. I loved that era of classical antiquity, those brave warriors and those mythical femme fatales who mercilessly demonstrated the banality of my times. The "present" always seemed mundane and pointless (and it still does). Nostalgia can be an aphrodisiac at times, but it can also be overwhelmingly melancholic.
Woody Allen's Midnight in Paris is an ode to nostalgia as well as a dissection of the same. The entire film is summed up in the first line of the fictional novel being written by its protagonist.
"Out of the Past" was the name of the store, and its products consisted of memories. What was prosaic and even vulgar to one generation had been transmuted by mere passing of years to a status at once magical and also camp." – Gil Pander
The Plot:
Midnight in Paris, as the name suggests, is a love letter to Paris. It starts with a familiar yet enticing montage of La Ville-Lumière, languid and sinful music, a sumptuous Parigot orgy that gives an impression that it is to Paris what Vicky Christina Barcelona could not be to Barcelona. But as the film progresses, we see that it is much more than that.
Gil Pander (Owen Wilson) is a successful Hollywood screenwriter who is fed up and disillusioned. He is on vacation in Paris and is gradually being seduced and consumed by the city. He plans to stay there permanently and work on his novel, an idea ridiculed by his beautiful but nagging fiancée Inez (Rachel McAdams) and her snobbish parents. Inez bumps into an old friend Paul (Michael Sheen), a smooth talking intellectual whose eloquence does not necessarily mean factual accuracy. Gil abhors Paul as much as Inez adores him. After a few meetings, Gil finally takes a break from his social circle and decides to roam around the streets of Paris at midnight for inspiration. As the clock strikes twelve, a vintage car arrives from nowhere. The passengers include the likes of Cole Porter, Josephine baker, Zelda and F Scott Fitzgerald and Gil is invited to join them. Soon it becomes evident that he has somehow travelled back in time to the Paris of 1920s, an era that he loves. Soon he gets to meet more of his idols including Ernest Hemingway, Gertrude Stein, Pablo Picasso, Luis Buñuel, Salvador Dali, Man Ray, T S Eliot and many more. He travels back in time every night and starts living a double life that gradually alienate him from the real woman in his life. He even shows the manuscript of his novel to Stein and falls in love with Adriana (Marion Cotillard), a woman whose beauty surpasses the adjectives known to Gil. This cycle continues until he finds a portal to another era, the Belle Époque of 1880's and encounters Toulouse-Lautrec and Paul Ganguin among others. What happens next is best left for the viewers to figure out.
Woody as we know him:
So how does one describe this film? It is a surreal stoner trip to a bygone era, time warp within a time warp, eulogy to a bunch of people idolized by the director and eventually an amusing tale full of wisdom and erudite references. In many ways, it marks Woody Allen's return to form and a return to his forte. This is what he used to do in the 70's and 80's. Be it Zelig (1983) or Purple Rose of Cairo (1985), Allen has tackled absurdist topics as well as plentiful references to his idols on several occasions. His recent films were somewhat lacking in that respect but with Midnight in Paris he compensates for everything.
The beauty of the film lies in clever writing. In fact it is probably one of the best original screenplays in recent times. It deals with the absurd and the impossible but never loses focus and gets across the point. It is full of wisdom, some of Woody's own and some borrowed from the real people referenced in the film. For instance, Hemingway tells Gil,
"…when you are sharing your body and heart with a great woman the world fades away…. You conquer what most lesser men have never conquered before, you have conquered a great woman's heart, the most vulnerable thing she can offer to another. Death no longer lingers in the mind. Fear no longer clouds your heart…"
The wisdom is complemented with eclectic humour. When Gil meets the surrealists, the discussion proceeds thus,
Luis Buñuel: A man in love with a woman from a different era. I see a photograph!
Man Ray: I see a film!
Gil: I see insurmountable problem!
Salvador Dalí: I see… rhinoceros!
Nevertheless, for a film that has Van Gogh's The Starry Night looming large over its poster, it is only expected to have such references. There is also an obvious yet hilarious tribute to Buñuel's The Exterminating Angel.
The Cast and Crew:
None of these would have worked without the right actors. Apparently the script was fine tuned to fit Owen Wilson and it turns out to be a wise decision. He brings back the Annie Hall persona of Woody Allen that is vulnerable and in a troubled relationship. But he does not allow it be a mere caricature. He is ably aided by a host of actors who have small but effective roles playing real life characters. The best of them were Corey Stoll as Hemingway with his sharp and rapid-fire dialogues, Kathy Bates as an authoritative Stein and Adrien Brody as a gleefully over the top Dali. This motley crowd is captured with the backdrop of a seductive city by Darius Khondji, who also lives up to his reputation.
Then there was Marion Cotillard: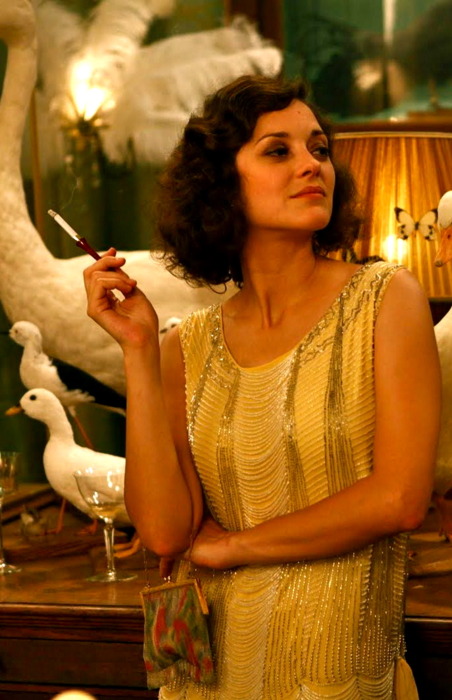 From the sexy and murderous Tina Lombardy to a heart breaking Edith Piaf and to a haunting Mallorie Cobb, Marion Cotillard has come a long way. She does not have much of screen time in this film but everything revolves around her. Picasso and Hemingway fall for her, so does Gil. She is the illusion that everybody wishes to be real, including the audience. No other actress of this generation has a comparable melancholic beauty and old worldly charm. She is the personification of nostalgia!
The Parting Shot:
Compared to most other Woody Allen films, Midnight in Paris is more universal. One may not be aware of the Dadaists or for that matter the Belle Époque, but can still enjoy the film as it looks bewitching, flows smoothly and never meanders. This is a film that is likely to dominate the upcoming awards season and hence must not be missed at any cost. Is there anything else? Yes there is Carla Bruni in a cameo if that is what you are looking for!